RHB Extensions are human hair that provide a full range of product options that are extraordinary.
For our beloved guests, our products have completely changed the way their hair looks and how they feel about themselves.
We offer 3 key options to suit individual needs and budget:
1. Great Lengths Keratin Bonds
Our complimentary consultations include – achieving your desired result, analysing your hair (type/condition), colour matching and time required to work in with your budget – including personal maintenance plan.
More reasons why we love what we do!
Great Lengths Keratin Bonds
Great Lengths keratin bond extensions offer women a solution to hair extensions that will not damage your own hair. These natural, keratin bonds delicately attach to your own hair and expand and contract with water, never pinching and causing breakage. Our keratin bond extensions last anywhere from three months to six months with little to no maintenance required, providing instant natural volume and length.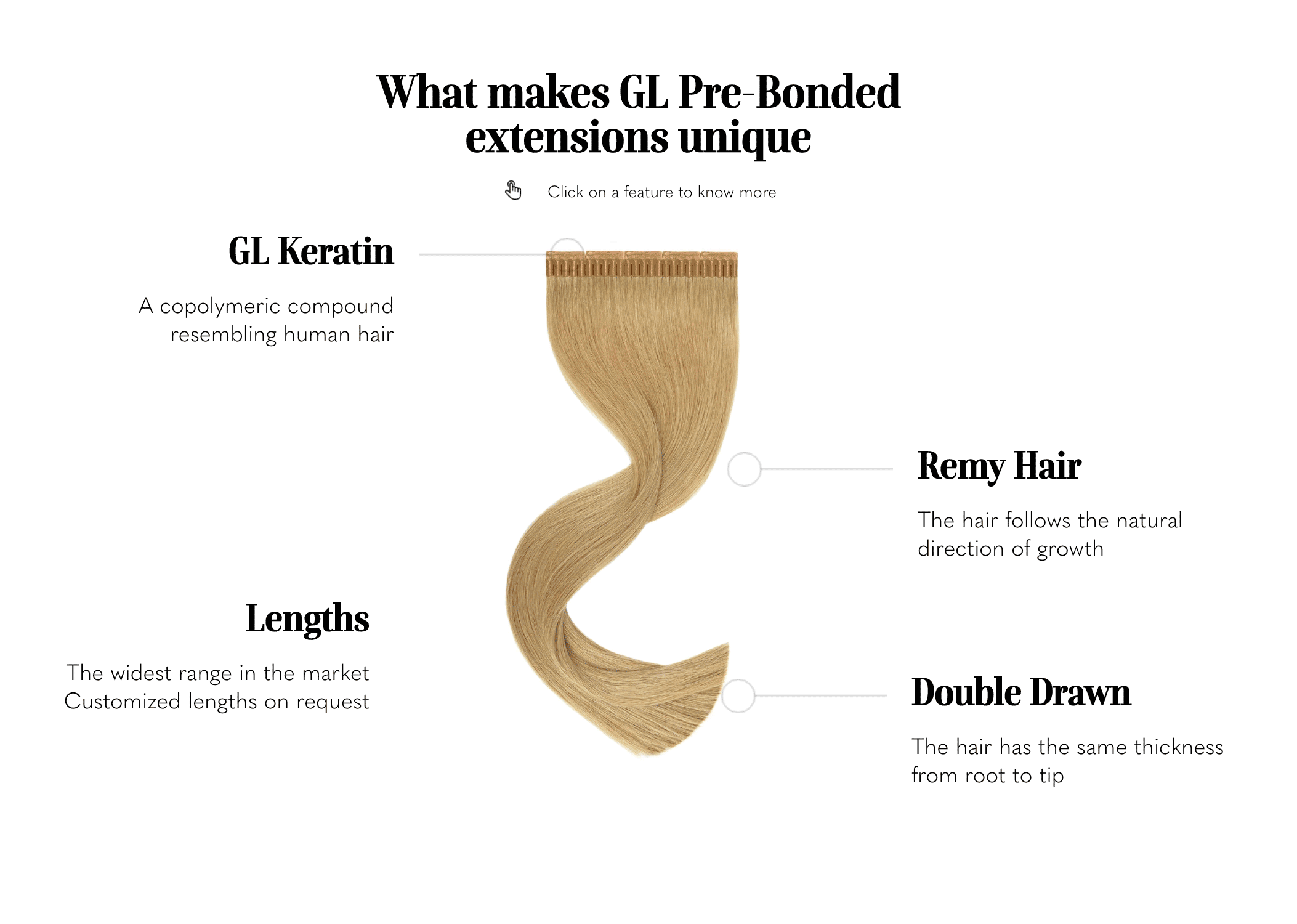 Great Lengths keratin bonds can be done via two different application methods. Neither method will damage your own hair. An application can take anywhere from 1.5 hours to 5 hours depending on the amount of bonds and the complexity of the hair extension application.
*Consultation required.
Great Lengths Premium Extensions
Invisible Skin Tape Wefts
With our invisible tapes you will forget you're even wearing extensions.
The hair is hand sewn into the tape itself, giving an illusion that the extensions are growing straight from your own scalp. Our premium Remy Russian invisible tape hair extensions are the most discreet tape extensions available on the market.
RHB Clip In Extensions
We offer the Best Clip In Hair Extensions in Australia.
A quick and convenient way of instantly obtaining longer and thicker hair. We are findings Clip ins to be very popular with our guests as they wear them at times of their choosing without having permanent glues, waxes or weaves in their hair.
Clip in extensions are VERY cost effective and an efficient way of getting a glamour look – and it's simple do it yourself in a matter of minutes.
Our clip in hair extensions are able to be used for full head application or for quick fixes and highlights, simply apply as many pieces from the set as you wish.
We only use human hair – meaning that you can curl, straighten and style your extensions as you wish. For each set we choose the highest-grade extensions on the market with 150 grams of handpicked soft and beautiful hair.
Clip In Maintenance Tips
Use a quality shampoo and conditioner that contain any protein or sulphate, or have a high alcohol content. We recommend Oribe ranges.
Concentrate shampoo on own scalp rather than on extensions. Concentrate conditioner on extensions.
Extensions require maintenance every 6-8 weeks to keep the natural hair safe, damage free and manageable.
Dry hair gently with hairdryer on low-medium heat.
Always tie hair up when sleeping, a loose plait is best.
Applying regular treatments is a necessary part of maintaining hair extensions. Apply an Oribe Oil daily.
Do not bleach hair extensions, Semi permanent dye to go darker or similar shade only.
Do not sleep with wet hair.
Brush hair daily with recommended hair extension brush.
It is normal to lose 1 to 5 extensions between maintenance sessions, these can be re-applied.
Apply heat protectant spray prior to using heat styling tools.
Rinse hair after swimming in chlorine or salt water.
Avoid washing hair for 2-3days following tape and skin weft hair extension application.
Following application wear the extensions in a low pony tail and low styles only for the first week.
When swimming, wear hair in loose plaint, never a bun or top knot.
Full Head Clip In Extensions From $350